10 Tips On How to Become A handyman around the House
Posted On April 21, 2023
(Last Updated On: April 21, 2023)
How to become A handyman of your own house? Even the simplest maintenance can be intimidating for most homeowners. Even something as simple as replacing a light bulb might stump them. It's no surprise, given that we're switching from incandescent to fluorescent lighting in an effort to go "green." They don't even use the same grading system that we're all used to. This article will share some tips on how to become A handyman of your own house. Keep reading.

"Where do I begin?" becomes the question. But this essay isn't about light bulbs; it's about taking a step back, inhaling deeply, and combining your brain and body to tackle the simple house maintenance jobs that most of us must deal with on a regular basis. With a little perseverance, you'll get the courage to tackle that dripping faucet or shattered window.
How to become A handyman of your own house?
Let's find below 1o ideas on how to become A handyman of your own house:
1. Taking a look at the job
Adding trash disposal, changing a ceiling fan or light switch, or replacing a window screen all need the same steps: choosing the right equipment and supplies, and knowing how to complete the work. So the first step is to do some study to determine the best approach for the job.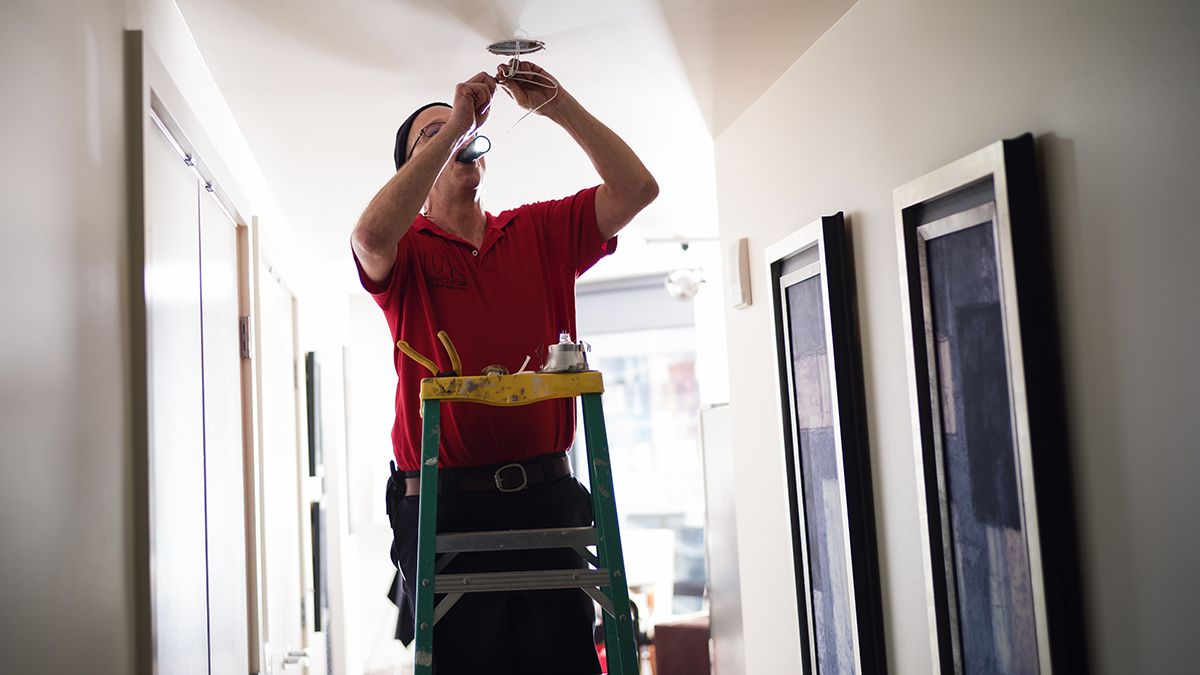 2. Troubleshooting the issue
Learning how things function is the first step in developing effective troubleshooting abilities. If you don't grasp how a system and its components are supposed to work, whether we're talking about plumbing, electromechanical, or structural systems, you won't be able to pinpoint a problem.
You might begin by conducting some internet research. You'll discover a variety of valuable resources, whether you're a novice or an expert. You may start identifying the location of the malfunctioning element or other trouble after you have a basic grasp of how "it" operates. Water leaks are usually easy to detect.
3. Obtaining assistance
Home improvement stores such as The Home Depot and Lowe's provide project clinics. Examine their calendars for forthcoming activities and make arrangements appropriately. Adult education courses are also available at community colleges. Your local library is a fantastic place to go for reference materials.
This will allow you to evaluate materials that you may wish to add to your own library of how-to guides in the future. This might help you save money by preventing you from making unneeded purchases. If you need help with a minor issue with one of your home's appliances, you may usually call a technical support hotline.
4. It's all about the size
When it comes to nuts and bolts, plumbing and hardware components, or construction supplies, there are a number of sizes and grades to satisfy the demands of every work. When it comes to changing parts, there may be a variety, and not all of them are interchangeable.
To identify your precise needs, call ahead before traveling to your local hardware and builder's supply store. Just to be safe, bring the old component along for comparison. Because fasteners are available in Metric and SAE standards, as well as fine and coarse thread, a repeat journey might be necessary, wasting time, petrol, and energy.
5. Choosing the right materials
Parts and materials come in a variety of grades and quality. This is true of most types of building materials, including lumber, drywall, plumbing, and electrical. Whether you're repairing/replacing/installing gas, water line, or drain, the pipe you choose will depend on your project.
There are a lot of things to think about. Develop a relationship with your local hardware shop, and you'll have access to a lot of information. Most organizations take pleasure in providing you with basic knowledge as well as excellent customer service. Assisting you in completing the task correctly ensures a satisfied client and repeat business for the merchant.
6. First and foremost, there is safety
When performing any sort of house repair, safety should always take first. The best method to avoid avoidable damage is to follow common-sense guidelines like always utilizing tools for their intended use. You should always turn off the electricity or the water supply when working on plumbing or electrical systems.
Electrical shocks can be avoided by shutting off the power at the breaker box; just turning off a wall switch before moving a ceiling light or fan does not effectively stop the supply. It may be feasible to utilize a shut-off valve beneath the sink while replacing a faucet. Other chores may need to turn off the entire house's power supply.
7. Read and follow safety instructions
When using power tools, always read the safety instructions. Make sure you're using the appropriate tool for the job. This entails picking a long-lasting instrument with sufficient capacity for the work.
A damaged instrument can cause harm or injury. When properly maintained, a high-quality tool is well worth the investment and may give years of reliable service. When using a ladder, it's important to observe normal safety precautions and never exceed the load capacity of the ladder. Keep your wits about you and be safe!
8. Knowing when to speak when is crucial
It may be important to enlist the help of a professional at times. When you do, you'll want someone who can complete the work quickly and affordably. Take a look at his references. Obtain a recommendation from a friend. Consumers may now use internet resources such as Angie's List. Make yourself familiar with this and other websites.
Before signing any agreements or putting down a deposit, check with the Better Business Bureau (BBB) and your state's Registrar of Contractors. A deposit is typically required to cover supplies before work begins. Always get a receipt and do not pay the invoice in full until all work has been performed successfully.
9. Comply with laws
State rules differ on who is required to have a contractor's license (which is generally based on the job's cost) and post a bond. These agencies may be found on the internet. Before you make a mistake that might have long-term effects, make sure you have all of the data.
10. Final thought
Home maintenance and repair have been the subject of several books. The goal of this brief article is to demystify the issue and encourage homeowners to take the initial steps toward being more self-sufficient.
Not only can becoming your own handyman save you money, but it will also give you a feeling of accomplishment and pleasure in accomplishing something on your own. You're also not reliant on servicemen who may or may not arrive on time or clean up after themselves. You'll be able to manage the next situation like a pro in no time!
More interesting Articles